Verokron

Subtitle
Missile Terrible-Monster
(ミサイル超獣Misairu Chōjū?)
Nicknames
Velokron
Type
Choju
Home world

The Alternate Dimension

Height
55 meters[1]
Weight
44,000 metric tons[1]
Forms
Kugutsu Verokron
Relations
To be added
Allies
To be addad
Enemies
To be added
Portrayed by
To be added
First appearance

Ultraman Ace

episode 1,
Shine! The Five Ultra Brothers (1972)
Latest appearance
Ultraman Orb: The Origin Saga (2016)
Roars
Verokron (ベロクロン,   Berokuron?) is a choju that first appeared in the first episode of the 1972 television series Ultraman Ace.
Design
To be added
Origins
To be added
History
Ultraman Ace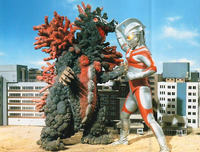 To be added
Revenge of Verokron
To be added
Ultraman Taro
Counterattack! The Monster Army
To be added
Ultraman Mebius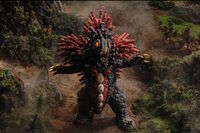 To be added
Ultraman
To be added
To be added
Ultraman Saga
To be added
Holy Sword of the Future
To be added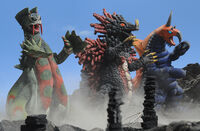 To be added
Ultraman X
To be added
To be added
Abilities
To be added
Gallery
Main article:

Verokron/Gallery
Roar
To be added
Trivia
References
This is a list of references for Verokron. These citations are used to identify the reliable sources on which this article is based. These references appear inside articles in the form of superscript numbers, which look like this: [1]
Template:UltramanAce Template:UltramanTaro Template:UltramanMebius Template:UltraGalaxyMegaMonsterBattle Template:UltramanSaga Template:UltramanGingaS Template:UltraFightVictory Template:UltramanOrb:TheOriginSaga