Ultraman Trigger: Episode Z

Directed by
Masayoshi Takesue
Produced by
Kazuyuki Murayama
Written by
Toshizo Nemoto
Music by
Go Sakabe
Distributor
Tsuburaya Productions, Shochiku
Budget
To be added
Box Office
To be added
Running Time
To be added
Ultraman Trigger: Episode Z (ウルトラマントリガー エピソードZ,   Urutoraman Torigā Episōdo Zetto?) is an upcoming tokusatsu Kyodai Hero film produced by Tsuburaya Productions and is the thirty-first film of the Ultraman Series. It is set to be released in both Japanese theaters and begin steaming through Ultraman Connection on March 18, 2022.[1][2][3][4]
Plot
To be added
Cast
Actor's name on the left, character played on the right.
Appearances
Shizuma Foundation
Other
Dark Ultras
Production
The film was announced on December 13, 2021 during TsubCon 2021, alongside a trailer being released on Ultraman Official. Raiga Terasaka, Runa Toyoda and Shunya Kaneko were all set to sing the film's theme song.[1][2]
Gallery
Main article: Ultraman Trigger: Episode Z/Gallery
Music
Videos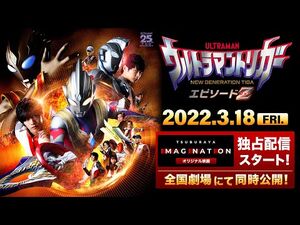 Trailer
Trivia
References
This is a list of references for Ultraman Trigger: Episode Z. These citations are used to identify the reliable sources on which this article is based. These references appear inside articles in the form of superscript numbers, which look like this: [1]