Ultraman Taiga the Movie:
New Generation Climax
Directed by
Ryuichi Ichino
Produced by
Tsuburaya Productions
Written by
Sotaro Hayashi, Takao Nakano
Music by
Yuya Mori
Distributor
Shochiku
Budget
To be added
Box Office
To be added
Running Time
To be added
"
Surpass! Ultraman Taro!! The Tri-Squad Ends Here!! (超えろ!最強の父!!
トライスクワッド、ここに終結!!)
"
— Japanese tagline
Ultraman Taiga the Movie: New Generation Climax (劇場版ウルトラマンT  ニュージェネクライマックス,   Gekijō-ban Urutoraman Taiga Nyū Jene Kuraimakkusu?) is a tokusatsu Kyodai Hero film produced by Tsuburaya Productions and is the thirtieth film of the Ultraman Series. It was released in Japanese theaters on August 7, 2020.[1]
Plot
To be added
Cast
Actor's name on the left, character played on the right.
Appearances
Alien Keel

Alien Ckalutch

Alien Groza

Alien Shaplay

Alien Zelan
Production
The film was officially revealed at the Tsuburaya Convention and Tsuburaya Productions' website on December 15, 2019. The theme song of the movie is set to be sung by Daisuke Ono.[2] The movie was originally set to be released in Japanese theaters on March 6, 2020,[2] however, on March 2, it was announced that its release will be postponed due to COVID-19.[3] On July 7, via the film's official website, the release of the Ultraman Taiga the Movie was announced to be August 7, 2020.[1]
Gallery
Main article: Ultraman Taiga the Movie: New Generation Climax/Gallery
Videos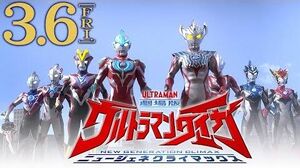 Trailer #1
Trailer #2
Trailer #2 updated version
Trivia
External Links
References
This is a list of references for Ultraman Taiga the Movie: New Generation Climax. These citations are used to identify the reliable sources on which this article is based. These references appear inside articles in the form of superscript numbers, which look like this: [1]