Ultraman Taiga

Race
Ultra
Human host
Hiroyuki Kudo
Transformation Device

Taiga Spark

,


Ultra Taiga Accessories

,


Plasma Zero-let

Weapon(s)

Taiga Tri-Blade

Home world
Land of Light
Height
50 meters
Weight
Normal: 40,000 metric tons


Photon Earth:
55,000 metric tons[1]
Tri-Strium:
50,000 metric tons[1]

Forms
Normal, Photon Earth,
Tri-Strium
Relations
Ultraman Taro (father),
Father of Ultra (grandfather),
Mother of Ultra (grandmother),
Ultraman Ace (adoptive uncle),
Tri-Squad
Suit actors

Hideyoshi Iwata

Voice actors

Takuma Terashima

Created by
Masayuki Goto
First appearance
Ultraman Taiga episode 1, "Buddy Go!" (2019)
Latest appearance
Ultra Galaxy Fight: The Absolute Conspiracy (2020)
This article is about the character. For the television series, see Ultraman Taiga (series).
Ultraman Taiga (ウルトラマンタイガ,   Urutoraman Taiga?) is an Ultra that first appeared in the first episode of the 2019 television series Ultraman Taiga.
Design
To be added
Personality
To be added
Origins
To be added
History
To be added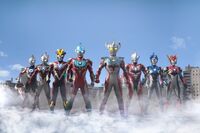 To be added
To be added
Abilities
Ultraman Taiga (Normal)
Strium Blaster
To be added
Swallow Bullet
To be added
Energy Flare
To be added
Hand Beam
To be added
Ultra Slash
To be added
Travel Sphere
To be added
Barrier Sphere
To be added
Holographic Projection
To be added
Ultra Taiga Accessories
Supreme Blaster:To be added
Flame Blaster:To be added
Mons Beam Ray:To be added
Delos Illusion:To be added
Thunder Spark:To be added
Ultra V Barrier
To be added
Taiga Kick
To be added
Punching
To be added
Taiga Blow
To be added
Taiga Swing
To be added
Hand Chop
To be added
Plasma Zero-let
Taiga Emerium Blaster: To be added
Ultraman Taiga Photon Earth
Aurum Strium
To be added
Ultra Freezer
To be added
Swallow Bullet
To be added
Energy Punch
To be added
Deflection
To be added
Drop Kick
To be added
Pile Driver
To be added
Rapid Punches
To be added
Ultra Chop
To be added
Ultraman Taiga Tri-Strium
Taiga Tri-Blade
Spinning Drill Attack:To be added
Taiga Blast Attack:To be added
Titas Burning Hammer:To be added
Fuma Raging Fire Slash:To be added
Tri-Strium Burst:To be added
Quattro Squad Blaster:To be added
Plasma Zero-let
Taiga Emerium Blaster: To be added
Wide Taiga Shot: To be added
Taiga Dynamite Shoot: To be added
Weaknesses
To be added
Gallery
Main article: Ultraman Taiga/Gallery
Trivia
References
This is a list of references for Ultraman Taiga. These citations are used to identify the reliable sources on which this article is based. These references appear inside articles in the form of superscript numbers, which look like this: [1]