Ultraman Mebius

Race
Ultra
Human host

Mirai Hibino

Transformation Device

Mebius Brace

Height
Normal:
49 meters[1]

Infinity:
51 meters

Weight
Normal:
35,000 metric tons[1]

Infinity:
36,000 metric tons

Forms
Normal, Brave, Burning Brave, Phoenix Brave, Infinity, Glitter
Relations
Ultra Brothers,

Crew GUYS

,


Space Garrison

, Ultraman Z
Suit actors
Sanshiro Wada, Kei Iwata Sakae,
Satoshi Yamamoto
Voice actors

Shunji Igarashi

,

Jun Fukuyama

First appearance
Ultraman Mebius episode 1,
"A Fateful Encounter" (

2006

)
Latest appearance
Ultra Galaxy Fight: The Absolute Conspiracy (2020)
This article is about the character. For the television series, see Ultraman Mebius (series).
Ultraman Mebius (ウルトラマンメビウス,   Urutoraman Mebiusu?) is an Ultra that first appeared in the first episode of the 2006 television series Ultraman Mebius.
Design
To be added
Origins
To be added
History
To be added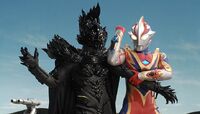 To be added
Ultraman Mebius Side Story: Armored Darkness
To be added
Ultraman Mebius Side Story: Ghost Rebirth
To be added
To be added
To be added
To be added
To be added
To be added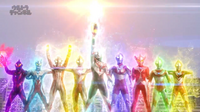 To be added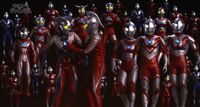 To be added
To be added
Abilities
To be added
Gallery
Main article:

Ultraman Mebius/Gallery
Trivia
References
This is a list of references for Ultraman Mebius. These citations are used to identify the reliable sources on which this article is based. These references appear inside articles in the form of superscript numbers, which look like this: [1]
Template:Ultraman Mebius & Ultraman Brothers Template:Ultraman Mebius Side Story: Armored Darkness Template:Ultraman Mebius Side Story: Ghost Rebirth Template:The Super 8 Ultra Brothers
Template:Ultraman Zero the Movie