Ultraman Hikari

Race
Ultra
Human host

Kazuya Serizawa

,


Ryu Aihara

(temporarily)
Transformation Device

Knight Brace

Height
Micro to 50 meters[1]
Weight
Normal:
35,000 metric tons[1]

Hunter Knight Tsurugi:
38,000 metric tons

Forms
Hunter Knight Tsurugi
Relations
Ultra Brothers,

Crew GUYS

,
Inter Galactic Defense Force
Suit actors

Hideyoshi Iwata

,
Hironari Okubo (UM Geed)
Voice actors

Keiichi Nanba

(voice & grunts),


Masaki Nishina

(UM Mebius

episode 50

),


William Winckler

(English dub; UFV),
Chris Wells (English dub, UGF:TAC)
Created by

Hiroshi Maruyama

First appearance
Ultraman Mebius episode 5,
"Reverse Shot" (

2006

)
Latest appearance
Ultra Galaxy Fight: The Absolute Conspiracy (2020)
Ultraman Hikari (ウルトラマンヒカリ,   Urutoraman Hikari?) is an Ultra that first appeared in episode five of the 2006 television series Ultraman Mebius. He is the eleventh member of the Ultra Brothers and is the leader of the Space Science Technology Bureau.
In his debut, he appeared as Hunter Knight Tsurugi (ハンターナイトツルギ,   Hantā Naito Tsurugi?), an armored form that he received after failing to defend Planet Arb from Bogarl.
Design
To be added
Origins
To be added
History
To be added
Ultraman Mebius Side Story: Hikari Saga
To be added
Ultraman Mebius Side Story: Armored Darkness
To be added
Ultraman Mebius Side Story: Ghost Rebirth
To be added
To be added
To be added
To be added
To be added
To be added
Abilities
Transformation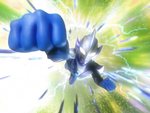 To be added
Techniques
Arb Gear
To be added
Travel Sphere
To be added
Size Changing
To be added
Transferring
To be added
Ultra Sign
To be added
Ultra Psychokinesis
To be added
Merging
To be added
Inner Light Transportation
To be added
Knight Shoot
To be added
Knight Beam Blade
To be added
Blade Shot
To be added
Hot Road Flash
To be added
Hot Road Shoot
To be added
Knight Kick
To be added
Knight Punch
To be added
Knight Chop
To be added
Energy Restoration
To be added
Energy Reflector
To be added
Double Shoot Attack
To be added
Ultra Blocker
To be added
Assimilation
To be added
Jumping
To be added
Twin Stream Lancer
To be added
Weaknesses
To be added
Inventions
Knight Timbre

Riser

and Loading Knuckle

Ultra Capsules

Z Riser
Filmography
Gallery
Main article: Ultraman Hikari/Gallery
Trivia
References
This is a list of references for Ultraman Hikari. These citations are used to identify the reliable sources on which this article is based. These references appear inside articles in the form of superscript numbers, which look like this: [1]
Template:Ultraman Mebius Side Story: Hikari Saga Template:Ultraman Mebius Side Story: Armored Darkness Template:Ultraman Mebius Side Story: Ghost Rebirth
Template:Ultraman Zero the Movie Template:Ultra Fight Victory