We're Getting Mutants in the MCU - The Loop
Play Sound
ULTRAMAN (ULTRAMAN,   Urutoraman?) is an anime series co-produced by Tsuburaya Productions and Production I.G.[1][2] It aired Worldwide on Netflix on April 1st, 2019.[3][4] Season two is set to be released sometime in the future.[5][6]
Plot
To be added.
Episodes
Season One
A Power that Shouldn't Be on This Earth

An Inescapable Fate

Being Ultraman Isn't Bad

Release the Limiter!

City of Aliens

The Curse of Ultraman

Hidden Thoughts

The Beginning of Truth

Nice to Meet You, Brother

Star Council

You as You Are

Ace Killer

A Real Ultraman
Appearances
Characters
Shin Hayata

Dan Moroboshi

Seiji Hokuto

Rena Sayama

Jack

Yosuke Endo

Kurata

Shiraishi

Ultraman

Yapool
SSSP
Antagonists
Alien Adacic

Alien Bris

Alien Igaru

Black King

Alien Robuton

Agent Adad

Alien Pitt

Biological Weapons

Ace-Killer

Alien Nepenthes
Production
The series was announced in November of 2017.[7] It was later revealed to be a 3DCG anime co-produced by Production I.G and Sola Digital Arts. The series is set to be be co-directed by Kenji Kamiyama and Shinji Aramaki.[8] Nobuko Toda and Kazuma Jinnouchi are composing the music.[4] Oldcodex would perform the series' opening theme song "Sight Over the Battle."[9] The series was released on Netflix on April 1, 2019.
On December 15, 2019, it was revealed during Tsuburaya Convention 2019 that season one would air on the Japanese television networks, Tokyo MX and BS11, in April 2020, and would be given a new theme song.[10]
Gallery
Videos
ULTRAMAN Trailer
ULTRAMAN Teaser #1
2020 Announcement Teaser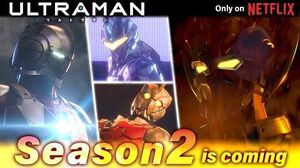 Season Two Teaser
Trivia
External Links
References
This is a list of references for Ultraman (2019 anime). These citations are used to identify the reliable sources on which this article is based. These references appear inside articles in the form of superscript numbers, which look like this: [1]
 

Series

ULTRAMAN

Episodes

A Power that Shouldn't Be on This Earth

•

An Inescapable Fate

•

Being Ultraman Isn't Bad

•

Release the Limiter!

•

City of Aliens

•

The Curse of Ultraman

•

Hidden Thoughts

•

The Beginning of Truth

•

Nice to Meet You, Brother

•

Star Council

•

You as You Are

•

Ace Killer

•

A Real Ultraman

Ultramen

Shinjiro Hayata

•

Shin Hayata

•

Dan Moroboshi

•

Seiji Hokuto

•

Jack

•

Ultraman

Antagonist

Bemular

•

Alien Adacic

•

Alien Bris

•

Alien Igaru

•

Alien Robuton

•

Agent Adad

•

Alien Pitt

•

Biological Weapons

•

Ace Killer

•

Alien Nepenthes

Other Characters

Mitsuhiro Ide

•

Edo

•

Rena Sayama

•

Yosuke Endo

•

Kurata

•

Shiraishi

•

Yapool

Cast

Ryohei Kimura

•

Katsuyuki Yamazaki

•

Hideyuki Tanaka

•

Teruaki Ogawa

•

Takuya Eguchi

•

Shinji Kasahara

•

Megumi Han

•

Haruka Shibai

•

Sumire Moroboshi

•

Haruka Shibai

•

Ken Uo

•

Kaiji Soze

•

Shigeru Ushiyama

•

Teruaki Ogawa

•

Ryota Takeuchi

•

Eiji Hanawa

•

Hirokazu Sekido

•

Kenjiro Tsuda

•

Shiraishi Minoru

•

Kaiji Soze

•

Hiroaki Hirata