Shin Ultraman

Race
Ultra
Human host
TBA
Transformation Device
Beta Capsule
Home world
Land of Light (Nebula M78)
Alternate Names
Ultraman, Shinman
Height
TBA
Weight
TBA
Forms
TBA
Relations
Ultraman's partner
Voice actors
Takumi Saito
Created by
Shinji Higuchi
First appearance
Shin Ultraman (2021)
For the 2021 film, see Shin Ultraman.
Shin Ultraman (シン・ウルトラマン,   Shin Urutoraman?) is an Ultra that will appear in the 2021 film Shin Ultraman. It is the eighth onscreen incarnation of the character.
Name
Shin (シン?) is a Japanese kanji that means new it is likely from Shin Godzilla's name.
Development
To be added
Design
To be added
Personality
To be added
Origins
To be added
History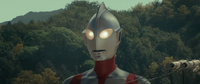 To be added
Abilities
Transformation
To be added
Techniques
To be added
Physical Abilities
To be added
Other Abilities
To be added
Weaknesses
To be added
Gallery
Main article: Ultraman/Shin/Gallery
Trivia
References
This is a list of references for Ultraman/Shin. These citations are used to identify the reliable sources on which this article is based. These references appear inside articles in the form of superscript numbers, which look like this: [1]