Shin Ultraman

Directed by
Shinji Higuchi
Produced by
Hideaki Anno
Written by
Hideaki Anno
Music by
To be added
Distributor
Toho
Budget
To be added
Box Office
To be added
Running Time
To be added
Shin Ultraman (シン・ウルトラマン,   Shin Urutoraman?) is an upcoming Japanese tokusatsu Ultraman film, to be co-produced by Tsuburaya Productions, Toho, and khara, Inc. As successor to Shin Godzilla, it will serve as a film adaptation of the 1966 series, Ultraman. The film is to be tentatively released to Japanese theaters in 2021.[1]
Development
On August 1, 2019, Tsuburaya Productions announced that an Ultraman film helmed by Shinji Higuchi and Hideaki Anno was in the works, produced in association with Toho and khara and set for a 2021 release. Anno had already completed the first draft of the script on February 5.[2] The film will star Takumi Saito, Masami Nagasawa, and Hidetoshi Nishijima.[1] A later report from Japanese news outlet Natalie, which featured comments from Higuchi, Saito, Nagasawa, Nishijima, Tsuburaya chairman Takayuki Tsukagoshi, and Toho president Minami Ichikawa, revealed Saito's role as Ultraman's human host, with Nagasawa playing his partner.[3] In his statement, Higuchi remarked that "A baton has been entrusted to me that has been shining ever since I was a small child. I will solemnly strive to fulfill my responsibility to pass on that heavy, radiant baton created by my seniors."[3][4]
A casting call for Shin Ultraman was posted on August 20, with the filming begining sometime in the fall of 2019.[5]
Production
On September 25, ten additional cast members were revealed, which included names such as Daiki Arioka, Akari Hayami, and Tetsushi Tanaka.[6]
Marketing
Ultraman's design was revealed during the opening ceremony of Tsuburaya Convention 2019 on December 13. Though largely identical to the character's traditional look, the lack of the Color Timer gives the Ultra an appearance that reflects Tohl Narita's original concept of the character.[7][8]
Staff
Staff role on the left, staff member's name on the right.
Cast
Actor's name on the left, character played on the right.
Appearances
Alternate Titles
Gallery
Main article: Shin Ultraman/Gallery
Soundtrack
Main article: Shin Ultraman/Soundtrack
Videos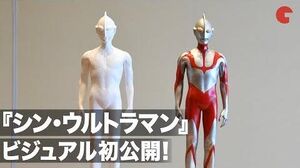 Takumi Saito and Shinji Higuchi reveal Ultraman maquettes at TsubuCon 2019
Trivia
External Links
References
This is a list of references for Shin Ultraman.
Community content is available under
CC-BY-SA
unless otherwise noted.