"
Have you become so fond of humans, Ultraman? (そんなに人間が好きになったのか、ウルトラマン。)
"
— Japanese tagline
For the Ultraman incarnation featured in this film, see Ultraman/Shin.
Shin Ultraman (シン・ウルトラマン,   Shin Urutoraman?) is a 2022 tokusatsu Kyodai Hero kaiju film co-produced by Tsuburaya Productions, Toho, and khara, Inc. As successor to Shin Godzilla, it serves as a film adaptation of the 1966 series, Ultraman and celebrates the 55th anniversary of the Ultraman Series.[2] The film was released to Japanese theaters in May 13, 2022.[3][4]
Plot
To be added.
Staff
Staff role on the left, staff member's name on the right.
Directed by   Shinji Higuchi
Associate director   Katsuro Onoue
Deputy director   Ikki Todoroki
Assistant director   Masayuki
Written and organized by   Hideaki Anno
Executive producers   Hidetoshi Yamamoto, Takayuki Tsukakoshi, Minami Ichikawa, Hideaki Anno
Co-executive producers   Hiroyasu Matsuoka, Tomoyuki Ogata, Masayuki Nagatake
Assistant executive producers   Hisashi Usui, Kei Kurosawa
Produced by   Hideaki Anno, Kazutoshi Wadakura, Takehiko Aoki, Tomoya Nishino, Masaki Kawashima
Associate producer   Akihiro Yamauchi
Music by   Shiro Sagisu
Theme song "M87" written, performed, composed, and arranged by   Kenshi Yonezu
Cinematography by   Osamu Ichikawa, Keizo Suzuki
Edited by   Yohei Kurihara, Hideaki Anno
Production design by   Yuji Hayashida, Eri Sakushima
1st assistant director   Gonsho Nakayama
VFX supervisor   Atsuki Sato
Cast
Actor's name on the left, character played on the right.
Takumi Saito

  as  

Shinji Kaminaga

[5]

Masami Nagasawa

  as  

Hiroko Asami

[5]
Hidetoshi Nishijima   as  

Kimio Tamura

[5]
Daiki Arioka   as  

Akihisa Taki

[5]
Akari Hayami   as  

Yumi Funaberi

[5]
Tetsushi Tanaka[6]
Koji Yamamoto[6]
Ryo Iwamatsu[6]
Keishi Nagatsuka[6]
Kyusaku Shimada[6]
Toru Masuoka[6]
Hajime Yamazaki[6]
Toshihiro Wada[6]

Issei Takahashi

  as   Ultraman (voice)
Koichi Yamadera   as  

Zoffy

(voice)
Kenjiro Tsuda   as   Alien Zarab (voice)
Koji Yamamoto   as   Alien Mefilas (voice)
Appearances
Characters
SSSP
Shinji Kaminaga

Hiroko Asami

Kimio Tamura

Akihisa Taki

Yumi Funaberi
Weapons, vehicles and items
Development
On August 1, 2019, Tsuburaya Productions announced that an Ultraman film helmed by Shinji Higuchi and Hideaki Anno was in the works, produced in association with Toho and khara and set for a 2021 release. Anno had already completed the first draft of the script on February 5.[7] The film will star Takumi Saito, Masami Nagasawa, and Hidetoshi Nishijima.[8] A later report from Japanese news outlet Natalie, which featured comments from Higuchi, Saito, Nagasawa, Nishijima, Tsuburaya chairman Takayuki Tsukagoshi, and Toho president Minami Ichikawa, revealed Saito's role as Ultraman's human host, with Nagasawa playing his partner.[9] In his statement, Higuchi remarked that "A baton has been entrusted to me that has been shining ever since I was a small child. I will solemnly strive to fulfill my responsibility to pass on that heavy, radiant baton created by my seniors."[9][10]
A casting call for Shin Ultraman was posted on August 20, with the filming beginning sometime in the fall of 2019.[11]
Production
On September 25, ten additional cast members were revealed, which included names such as Daiki Arioka, Akari Hayami, and Tetsushi Tanaka.[6]
Marketing
Ultraman's design was revealed during the opening ceremony of Tsuburaya Convention 2019 on December 13. Though largely identical to the character's traditional look, the lack of the Color Timer gives the Ultra an appearance that reflects Tohl Narita's original concept of the character.[12][13] On November 2, 2020, both Shinji Higuchi and Hideaki Anno revealed a larger statue of Ultraman from the film, announced that the film would be released in theaters in early summer, 2021, and that the Sukagawa Archive Center was now open to visitors.[14][15] On January 28, 2021, the first trailer of the film was released on the official Tsuburaya Productions YouTube channel, revealing two classic series monsters, Neronga and Gabora, alongside Ultraman. During Tsuburaya Convention 2021, a second teaser was released alongside an updated version of the first teaser. Additionally, the film's release date was revealed to be delayed to May 13, 2022.[16][3][4][17] A third trailer, released on April 15, 2022, revealed new footage of Ultraman, as well as Zarab.[18][19]
Shin Ultra Fight
Shin Ultra Fight (シン・ウルトラファイト,   Shin Urutora Faito?) is a mini-series of three-minute episodes that aired through Tsuburaya Imagination the day after the film's release.[20][21] While the first two episodes aired on May 14, 2022, the third episode will be released on May 30, 2022.
Gallery
Main article: Shin Ultraman/Gallery
Soundtrack
Main article:

Shin Ultraman/Soundtrack
Alternate titles
Videos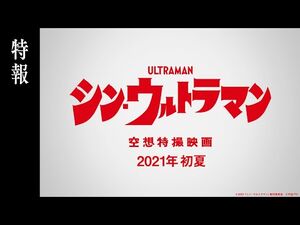 First Japanese teaser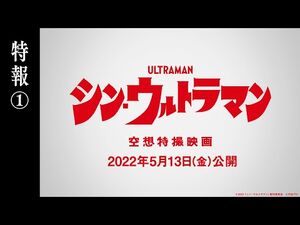 Updated first Japanese teaser
Second Japanese teaser
Trivia
Shin Ultraman marks the first Ultraman Series film to be produced by Toho; the company previously provided theatrical distribution for a number of episodes and compilation movies of Ultraman series.
Hideaki Anno is a longtime fan of the Ultraman franchise, and previously created and starred in a 1983

parody

of Tsuburaya Productions' Return of Ultraman.
External Links
References
This is a list of references for Shin Ultraman. These citations are used to identify the reliable sources on which this article is based. These references appear inside articles in the form of superscript numbers, which look like this: [1]