Segmeger

Subtitle
Poisonous Flame Monster
(毒炎怪獣Doku En Kaijū?)
Type
Poisonous Fire Kaiju
Height
57 meters[1][2]
Weight
45,000 metric tons[1][2]
Relations

Alien Seger "Aoi"

(summoner),
Devil Splinters
Enemies
Ultraman Taiga,
Ultraman Titas,
Ultraman Fuma,
Ultraman X, Trigger Dark,


Carmeara

Portrayed by
Hiroyuki Arai
Created by
Daisuke Inomoto,
Kiyotaka Taguchi
First appearance
Ultraman Taiga episode 5,
"The Future You Decide" (2019)
Latest appearance
Ultraman Trigger:
New Generation Tiga
episode 18,
"Smile Operation No. 1" (2021)
Roars
To be added
Segmeger (セグメゲル,   Segumegeru?) is an alien kaiju that first appeared in episode five of the 2019 television series Ultraman Taiga.
Name
Segmeger gets its name from the Egyptian goddesses Sekhmet and Meretseger. The monster's design also reflects this.[3]
Design
To be added
Origins
To be added
History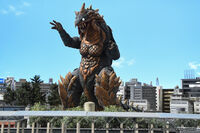 To be added
To be added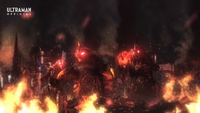 To be added
To be added
Abilities
Seger Bite
To be added
Seger Flame
To be added
Flame Vortex
To be added
Poisonous Physiology
To be added
Tail
To be added
Weaknesses
To be added
Filmography
Gallery
Main article: Segmeger/Gallery
Trivia
References
This is a list of references for Segmeger. These citations are used to identify the reliable sources on which this article is based. These references appear inside articles in the form of superscript numbers, which look like this: [1]