Jurassic World: Dominion Dominates Fandom Wikis - The Loop
Play Sound
Red King

Subtitle
Normal:
Skull Monster
(どくろ怪獣Dokuro Kaijū?)


2005:
Armored Monster
(装甲怪獣,   Sōkō Kaijū?)

Nicknames
THE Red King (UZF)
Type
Kaiju
Home world

Earth

Height
Normal:
45 meters[1][2][3][4][5]


2005:
60 meters[1]

Weight
Normal:
20,000 metric tons[1][2][3][4][5]


2005:
70,000 metric tons[1]

Forms
First Generation (A),
Second Generation (B),
Powered Red King,
EX Red King
Relations
Belyudra

(component)

Allies
To be added
Enemies
To be added
Portrayed by

Teruo Aragaki

,


Kunio Suzuki

,


Tomohiro Sato

,


Hiroshi Suenaga

,


Arai Hiroyuki

First appearance
Ultraman episode 8,
"The Monster Anarchy Zone" (1966)
Latest appearance
Ultraman Z episode 11,
"What Must Be Defended" (2020)
Roars
Red King (レッドキング,   Reddo Kingu?) is a daikaiju that first appeared in episode eight of the 1966 television series Ultraman.
Design
Over all, Red King is a bulky monster with his body covered in rows of wide ridges, to which all are horizontal in position. In most series, his skin is yellow with light blue in between every ridge. Red King's snout is very short in length and his eyes are glossy black. The monster possesses a long, cone-shaped neck and the top of the monster's head is tall and pointed at the tip. The monster's mouth is full of jagged teeth and has two tusks, one on each side of his upper jaw.
After its portrayal as Aboras, the Red King suit was refurbished back for the monster's appearance in episode twenty-five of Ultraman. The second generation Red King was gold in color, had white eyes with black pupils and the top of the head was taller than the original. Red King Ⅱ also had two clay lumps on his neck to represent the six bombs the monster ate in the episode.
In Ultraman 80, the third generation Red King resembled the second, but was bulkier and had white highlights in his pupils. Red King Ⅲ's skin color was dark-gold and in between the ridges were colored ocean-blue.
In Ultraman: The Ultimate Hero, the female Red King's skin was yellow, like the first generation Red King's, but with hexagonal scales. She had claws and spurs. Her teeth and tusks were longer and her face was more skeletal with dark shadows under the eyelids. The male Red King resembled the female but was more bulky. His skin was also brick-red in color, making this Red King the first and the only Red King to be colored red.
In Ultraman Max, Red King was changed to resemble the first generation Red King, but with a newer, Heisei era look to him. The legs were made more bulkier the previous designs. His eyes were black like the original's eyes and the face was given a more menacing appearance. This design would be reused throughout the rest of the Heisei era after Ultraman Max.
Origins
To be added
History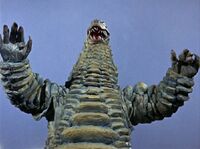 Red King was one of the monsters that lived on Tatara Island, along with Chandlar, Magular, and Pigmon. Red King was first seen in battle against Chandlar, with Red King taking full advantage of his strength over his opponent. Chandlar fought back by trying to blow Red King back with his wings and was able to make Red King bleed by biting his shoulder. Enraged, Red King managed to rip off one of Chandlar's wings. Critically injured, Chandlar fled, unable to continue fighting. Red King then threw both Chandlar's detached wing along with a boulder at the injured monster. Magular suddenly appeared shortly after the two monsters' battle, but was driven away by Red King's presence and quickly burrowed away. Later, Red King ambushed the SSSP when they were with Pigmon and attempted to crush the team with an avalanche of boulders. Arashi and Ide tried their best of fend off the monster with their weapons, but Red King's tough hide made their efforts futile. Pigmon then tried to distract Red King to help the Science Patrol, but the monster's efforts were in vain as Red King attacked Pigmon by hurling some boulders at him instead, causing a landslide of more boulders which then struck and killed Pigmon. Upon Pigmon's tragic death, Arashi and Ide managed to outwit Red King by shooting at the balloon they had attached to Pigmon, which came undone when Red King killed the small monster and had floated up to Red King's face. The burst caused Red King to drop the boulder that he was holding and it fell onto the monster's feet, causing him pain. This act infuriated Red King even further, making him throw more boulders. Hayata, who managed to transform into Ultraman, then flew to fight Red King. The monster was caught off guard as Ultraman flew in and kicked Red King on the back, knocking the monster down. Red King then got up and picked up a boulder, but before he could throw it at the Ultra, Ultraman then hit the boulder with his Specium Ray, causing Red King to drop the boulder, which fell onto Red King's feet a second time. Ultraman then grabbed Red King's neck and swung the monster around multiple times, snapping Red King's neck, killing the monster.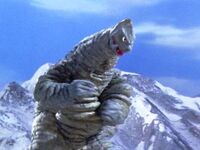 Another member of Red King's species was discovered by the SSSP in the Japanese Alps, who had managed swim to the Okhotsk Sea and eat six dangerous Hydrogen Bombs and then burrow its way back home. This second Red King was sleeping inside a mountainside until he was awoken by the monsters, Guigass and Dorako, who were fighting nearby. Red King interfered in their fight, but was quickly provoked when Dorako shoved him into Guigass. Red King then temporarily teamed up with Guigass, who then tried to fight Dorako while Red King watched them fight, but Dorako took advantage of the fight. Angry about how Guigass was not winning against Dorako, Red King then attacked Dorako, tearing off the monster's wings. Red King and Guigass then began to beat down Dorako until the monster died of its injuries. After Dorako was defeated, Red King and Guigass started to battling against themselves, Red King then drove Guigass away with his superior strength. Hayata, who was in the area with the SSSP, went off to stop Red King on his own due to how dangerous the monster was for eating the H-Bombs. However, after he shot the monster's tail, Red King then knocked off him a cliff. Luckily, Hayata managed to transform into Ultraman so that he could battle Red King. Unlike the first Red King, due to the monster's instability from the H-Bombs inside him, Ultraman had a harder time fighting him, which allowed Red King to beat him down in the process. After escaping Red King's grip, Ultraman then hit Red King with an Ultra Air Catch, which suspended the monster in mid-air, making Red King vulnerable to attack, thus Ultraman sliced the monster into thirds with his Ultra-Slashes. Ultraman then took the head and neck slice of Red King into Space so that the H-Bombs could be detonated safely.
To be added
To be added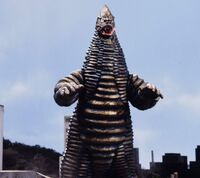 To be added
To be added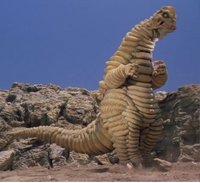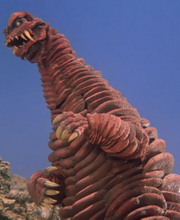 "

Falling Stars Spell Trouble

"
To be added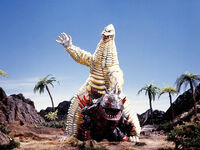 To be added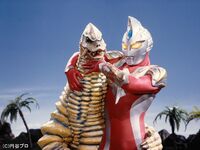 To be added
"

Alternate Dimension World

"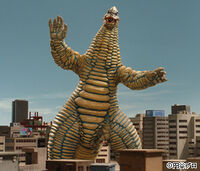 To be added
"

An Old Friend's Visit

"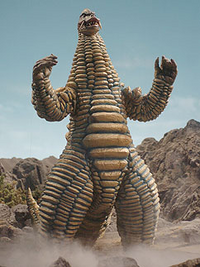 To be added
To be added
"

The Stone Which Calls Monsters

"
To be added
"

Unexpected Reunion

"
To be added
"

The New Horizon of War

"
To be added
"

Grande's Challenge

"
To be added
"

Planet Destruction

"
To be added
To be added
To be added
To be added
Ultraman Ginga: Theater Special Ultra Monster Hero Battle Royal
To be added
Main article: EX Red King
To be added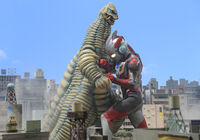 To be added
To be added
Main article: Skull Gomora
To be added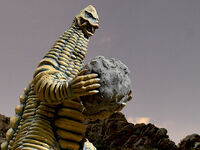 To be added
To be added
Red King (A) and (B)
To be added
Other media
To be added
Ultraman Super Fighter Legend
To be added
Ultraman Fighting Evolution Rebirth
To be added
Mega Monster Battle ULTRA MONSTERS
To be added
Mega Monster Battle: Ultra Adventure
To be added
Mecha-Mecha Iketeru
To be added
Ultra Zone
To be added
Mega Monster Rush: Ultra Frontier
To be added
Abilities
Physical Strength
To be added
Rock Throwing
To be added
Sharp Teeth
To be added
Tail Whip
To be added
Mega-Ton Tail
To be added
Durability
To be added
Flames
To be added
Explosive Rock Bullet
To be added
Giant Explosive Combustion
To be added
Jumping
To be added
Brave Burst
To be added
Explosive Punch
To be added
To be added
Bullet Catch
To be added
Weaknesses
To be added
Comics
To be added
Video Games
To be added
Gallery
Main article: Red King/Gallery
Roar
Red King's roar is a combination of Godzilla and Gaira's roar. During the final battle in Red King's debut episode, when Ultraman grabs him by the neck, Red King briefly has a combination of Godzilla and King Kong's roar.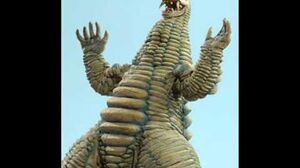 Red King's roars in the
Showa era
Trivia
References
This is a list of references for Red King. These citations are used to identify the reliable sources on which this article is based. These references appear inside articles in the form of superscript numbers, which look like this: [1]
 


The Ultraman
Series

Episodes

Birth of a New Hero

•

The Secret of the Shining Pendant

•

When the Weed Whistle Blows in the Evening

•

Chase of the Mysterious Red Cloud

•

The Passenger! Break through the Underground

•

Challenge to the Burning Deep Sea

•

Order to Attack! The Objective Is Pigu!

•

Officer Hikari's Secret Has Been Stolen!?

•

Terror of the Awakened Ancient Creature

•

I Saw It! The Illusion of a Monster...

•

The Science Garrison's Challenge!

•

The Curious Conversation Between a Monster and Pigu

•

The Sad Legend of the Revived Lake

•

The Star's Devil Has Come!

•

You Are Ultraman

•

The Living Phantom Bird

•

Beetamii Has Disappeared!

•

The Mysterious Monster Island

•

This is the Ultra Star! (Part 1)

•

This is the Ultra Star! (Part 2)

•

This is the Ultra Star! (Part 3)

•

The South Sea's Suspicious Space

•

The Supersonic Confrontation

•

Two Officer Mutsumis

•

The Devil's Garden

•

Earth's Greatest Crisis!

•

The Flying Monster Island!

•

The New Cap Has Arrived!

•

The Devil's UFO's Large Invasion

•

The Enormous Fossil Has Come to Life

•

The Female Ultra Warrior

•

Object X from Space

•

Go! Magma's Desperate Sphere

•

The Monster Accommodation Star Has Been Stolen (Prequel)

•

The Monster Accommodation Star Has Been Stolen (Sequel)

•

The Snow Woman Has Come from Space

•

Ultra Star U40's Crisis! Ultria's Mystery?

•

Giant Ultra War! Huge Warship Ultria's Sortie

•

Aim at Huge Warship Ultria

•

The Boy Who Took a Monster

•

Clash! Ultraman vs. Ultraman

•

Ultraman's Strategy to Living

•

The Monkey That Became a Monster?!

•

Ultria Was Broken in Two?!

•

Pigu Was Holding a Bomb

•

Revive Mutsumi

•

To the Ultra Star! Part 1: The Female Warrior's Information

•

To the Ultra Star! Part 2: The Frontline Base's Destruction

•

To the Ultra Star! Part 3: U (Ultra) Fleet's Large Fierce Battle

•

To the Ultra Star! Conclusion: Towards Peace and Victory

Ultras
Monsters &
Aliens

Seagra

•

Spiral

•

Wanigodon

•

Pero

•

Red Smogy

•

Tough Gillan

•

Tough Gillas

•

Tough Gillaco

•

Firebadon

•

Combugon

•

Robot #101

•

Alien Baltan

•

Mikonos

•

Dolfiego

•

Xalome

•

Hectore

•

Liquid Monster

•

Opt

•

Garadoras

•

Xyclon

•

Gellon

•

Gadon

•

Goglan

•

King Moa

•

Badan

•

Islanda

•

Gerado

•

Janyur

•

Bedoran

•

Badel People

•

Bagon

•

Zaamoth

•

Zanba

•

Dragodos

•

Deathbalan

•

Gibarooga

•

Red King

•

Aboras

•

Banila

•

Arstron

•

Ghostron

•

Gokinezula

•

Alien Baladon

•

Dabaran

•

Jadan

•

Jagon

•

Skeldon

•

Garbados

•

Megasaura

•

Alien Babilar

•

Gamiba

•

Imbedo-Being

•

Goadorian

•

Jinario

•

Groteng

•

Plazoon

•

Agujon

•

Deathpower

•

Zuma

•

Gurol

•

Darantulas

•

Cygnus #82-Alien Noa

•

Heller

•

Roygar

•

Panther

•

Heller Army

•

Gumons

•

Hellcat

•

Orolan

•

Gilos

•

Alien Gilo

•

Imitation Ultraman Joneus

•

Hatari

•

Dostony

•

Spader

•

Caperadon

•

Alien Scien

•

Golding

•

Gedon

•

Hella-Umaya

•

Heller Fleet

•

Mac Datar

Characters

Scientific Defense Guard

Choichiro Hikari

•

Tetsuo Akiyama

•

Daisuke Gondo

•

Kei Marume

•

Hiroaki Tobe

•

Mutsumi Hoshikawa

•

Pigu

•

Monkey

Cast

Hatsunori Hasegawa

•

Hitoshi Nakayama

•

Masaaki Daimon

•

Shuhei Nitta

•

Eri Ishida

•

Sayoko Hagiwara
Template:Ultra Galaxy Mega Monster Battle: NEO
 

Series

Episodes

Ultras
Monsters &
Aliens

Characters

Hikaru Raido

•

Tomoya Ichijoji

•

Misuzu Isurugi

•

Kenta Watarai

•

Chigusa Kuno

•

Taichi Kakisaki

•

Kyoko Shirai

•

Hotsuma Raido

•

Go Osato

•

Shingo Kuwabara

•

Tomomi Kuroki

•

Seiichirō Isurugi

Staff

To be added

Cast

Takuya Negishi

•

Takuya Kusakawa

•

Mio Miyatake

•

Mizuki Ohno

•

Kirara

•

Shohei Uno

•

Hana Kino

•

Masahiko Tsugawa

•

Mitsuki Koga

•

Shohei Abe

•

Maiko Kawakami

•

Hironobu Nomura

•

Hiroya Ishimaru

•

Tomokazu Sugita

•

Tatsuya Hashimoto

•

Kunji Hirano

•

Kenta Matsumoto

•

Holly Kaneko

•

Miki Ōtani
Template:Theater Special Ultra Monster Hero Battle Royal