Pagos (パゴス,   Pagosu?) is a prehistoric subterranean reptile kaiju that first appeared in episode eighteen the 1966 television series Ultra Q.
Design
Pagos has a bulky body and moves on four limbs. His head is elongated, and he has many sharp teeth, as well as two long fangs, in his mouth. Pagos has five horns: one on the nose, two above the eyes, and two more on the crown. These two horns on the top of the head are the longest and directed backwards. On the back Pagos has wide low plates, like Baragon.
Origins
To be added
History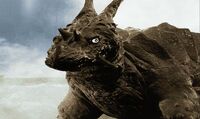 To be added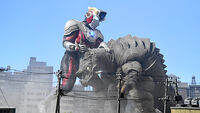 To be added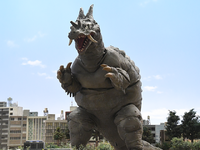 To be added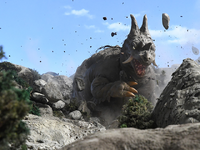 To be added
Abilities
Burrowing
Being a subterranean monster, Pagos is capable of burrowing.
Energy Beam
To be added
Weakness
To be added
Gallery
Main article: Pagos/Gallery
Roar
Pagos' roars are reused Varan roars.
Trivia
References
This is a list of references for Pagos.
Template:Belyudra Components Template:Ultraman Taiga
Community content is available under
CC-BY-SA
unless otherwise noted.