Jugglus Juggler (ジャグラスジャグラー,   Jagurasu Jagurā?) is a demon seijin that first appeared in episode one the 2016 series Ultraman Orb.
Design
To be added
Origins
To be added
History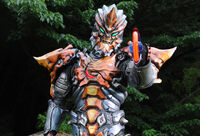 To be added
To be added
To be added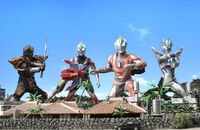 To be added
Captain Shouta Hebikura
Sometime after Juggler aided Geed in the battle with Gillvalis, Juggler left to another universe and became the captain of the GAF branch STORAGE, where he then became the 34-year-old Shouta Hebikura (ヘビクラショウタ,   Hebikura Shouta?).
Abilities
To be added
Gallery
Main article: Jugglus Juggler/Gallery
Trivia
To be added
References
This is a list of references for Jugglus Juggler.
Template:UltramanOrb:TheOriginSaga Template:UltramanOrbtheMovie
Community content is available under
CC-BY-SA
unless otherwise noted.