Jirass (ジラース,   Jirāsu?) is a daikaiju that first appeared in episode ten of the 1966 television series Ultraman.
Appearance
To be added
Origins
To be added
History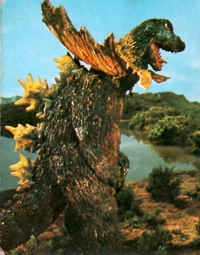 To be added
Other Media
To be added
Abilities
Heat-Ray

Jirass can fire a Blue Heat-Ray from his mouth.
Adept Swimmer

Being born in the Loch Ness, Jirass is fully adaptable underwater.
Gallery
Main article: Jirass/Gallery
Roar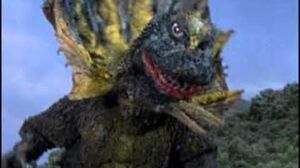 Jirass' roars
Trivia
Jirass suit was redesigned from two Godzilla suits. During the filming of Toho's Ebirah, Horror of the Deep, Tsuburaya Productions asked Toho if they could borrow the head of the DaisensoGoji, (Invasion of Astro-Monster) so they could use it in Ultraman. They couldn't use the head of the previous SanDaikaijuGoji suit (Ghidorah, the Three-Headed Monster) because it had already been modified to portray Gomess in Ultra Q. Toho approved the request and the DaisensoGoji's head was detached, and was welded onto the body of the SanDaikaijuGoji suit. Both the head of the DaisensoGoji and the body of the SanDaikaijuGoji were painted in greenish gray with yellow stripes, and a frill was added around the suit's neck to create Jirass. Because of this, Toho created a replica of the DaisensoGoji's head and grafted it onto the suit for the rest of the filming of Ebirah, Horror of the Deep.
Jirass was portrayed by suit actor Haruo Nakajima, who was famous for portraying Godzilla in the first twelve Godzilla films.
Community content is available under
CC-BY-SA
unless otherwise noted.