Gubila

Subtitle
Normal:
Deep Sea Monster
(深海怪獣Shinkai Kaijū?)
Oka-Gubila:
Ancient Underground Beast
(古代地底獣Kodai Chitei-jū?)
Nicknames
Gubira
Type
Aquatic Kaiju
Home world

Earth

Height
50 meters[1][2][3][4]
Weight
35,000 metric tons[1][2][3][4]
Forms
Gubila (Dark Thunder Energy), Gesubira, Oka-Gubila
Relations
Belyudra

(component)

,
Alien Bat (master),


Childhood Radiation

,
Makoto Aizen (master)
Allies
Gomess (S), Ultraman Geed
Enemies
Ultraman, Nozomu Taiga,
Ultraman Cosmos,Ultraman Zero,


Xio

, Ultraman X, Ultraman Orb,
Ragon, Pedanium Zetton,
Ultraman Rosso, Ultraman Blu,
GUTS-Select, Ultraman Trigger
Portrayed by

Teruo Aragaki

,

Arai Hiroyuki

First appearance
Ultraman episode 24,
"The Undersea Science Center" (1966)
Latest appearance
Ultraman Trigger: New Generation Tiga episode 4,
"For Smiles" (2021)
Roars
Gubila (グビラ,   Gubira?) is an aquatic kaiju that first appeared in episode twenty-four of the 1966 television series Ultraman.
Design
To be added
Origins
To be added
History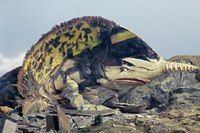 To be added
Ultraman Saga
To be added
Gubila (Dark Thunder Energy)
To be added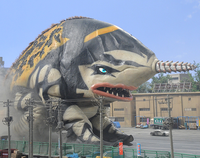 To be added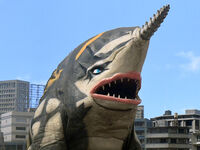 To be added
To be added
Oka-Gubila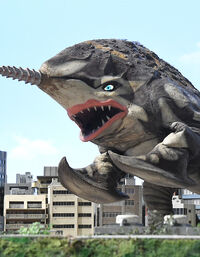 To be added
Abilities
To be added
Filmography
Video Games
To be added
Comics
Redman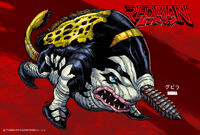 To be added
Gallery
Main article: Gubila/Gallery
Roar
Gubila's screeches were created by modifying those of the Deiei monster Barugon. These screeches would go on to be reused for Twintail, a monster from Return of Ultraman. In Ultraman Saga, Gubila's screeches are merged with the roars of the Ultraman monster Geronimon.
Trivia
References
This is a list of references for Gubila. These citations are used to identify the reliable sources on which this article is based. These references appear inside articles in the form of superscript numbers, which look like this: [1]