Gigas (ギガス,   Gigasu?) is a kaiju that appeared in episode twenty-five of the 1966 television series Ultraman.
Appearance
To be added
Origins
To be added
History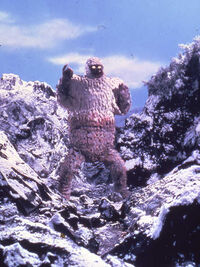 Gigas was a monster that resided in the Japanese Alps. The SSSP, who were investigating to find six hydrogen bombs, discovered Gigas, to which the team got ready to attack the beast, when suddenly another monster appeared, Dorako. The second monster then tried to attack the SSSP, to which the team then managed to lure Dorako towards Gigas. The two kaiju then started fighting each other, however, their battle awoke a third monster, Red King, who was sleeping inside a mountainside. Once Red King made his way to the other two monsters, Dorako then shoved the skull monster into Gigas. Rather then fighting Gigas, Red King temporarily teamed up with the frozen monster instead. Gigas tried to battle Dorako while Red King watched, but Dorako had the upper hand. Red King then joined in and tore off the monster's wings. Red King and Gigas then beat down Dorako until the monster died of its injuries. Once Dorako was defeated, Red King and Gigas started battling against themselves, however, Red King drove Gigas away with his superior strength. While Gigas was wandering away from battle, Ide and Arashi saw Gigas while in their Jet VTOL and fired at the monster. Gigas was then destroyed by an "Extra-Strong Drying Missile," which crystallized the monster and caused him to explode.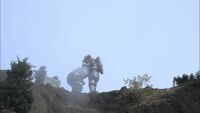 To be added
Other Media
To be added
Abilities
Physical Strength
To be added
Freezing Beam
To be added
Weaknesses
To be added
Gallery
Production
Screenshots
To be added
Merchandise
To be added
Roar
Gigas's roars are reused Toho King Kong roars.
Trivia
References
This is a list of references for Gigas.
Community content is available under
CC-BY-SA
unless otherwise noted.