Dinozaur (ディノゾール,   Dinozōru?) is an alien daikaiju that first appeared in the first episode of the 2006 television series Ultraman Mebius.
Appearance
To be added
Origins
To be added
History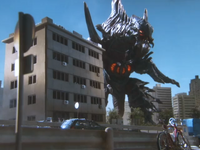 To be added
To be added
To be added
To be added
Dinozaur Reverse
To be added
Abilities
Flight

Being a space monster, Dinozaur has the ability to travel through space via flight.
Tongue Slicer
To be added
Organic Missiles
To be added
Gallery
Main article: Dinozaur/Gallery
Roar
Dinozaur's roars are infamously a combination of the two Toho monsters Gigan (from Godzilla vs. Gigan) and Ebirah (from Godzilla: Final Wars).
Trivia
References
This is a list of references for Dinozaur.
Community content is available under
CC-BY-SA
unless otherwise noted.