Dangar (ダンガー,   Dangā?) is a kaiju that first appeared in episode nine of the 1971 television series Return of Ultraman.
Appearance
To be added
Origins
To be added
History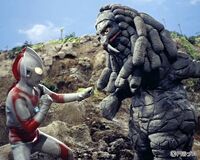 Dangar was sleeping on South Daito Island in the Okinawa Prefecture until he was awakened due to the seismic shocks besieging the island. When MAT member Goh arrived on the island in his MAT Arrow 1 to deliver the desperately needed serum to his ailing teammate, Takeshi Minami, Dangar immediately attacked the aircraft. Despite outmaneuvering the monster with his piloting skills, Goh's aircraft eventually ran out of fuel and crashed onto the island. As Dangar approached the downed vessel, Goh transformed into Ultraman Jack to fight the monster. Dangar shrugging off Jack's kicks and attempts to grapple him, while Jack evaded his spiked punches. The fight quickly turned to Jack's favor as the Ultra tore off Dangar's dreadlocks, which weakened the monster. Finally, Jack fired his Specium Ray at Dangar, blasting the monster's head and leaving him dead on the erupting island.
To be added
Other Media
To be added
Abilities
Spiked Hands
To be added
Weaknesses
To be added
Gallery
Concept Art
Production
Screenshots
To be added
To be added
Merchandise
Roar
To be added
Trivia
Community content is available under
CC-BY-SA
unless otherwise noted.