Bemular

Nicknames
Bemlar,
Bemura
Type
Seijin
Height
2.19 meters
First appearance
ULTRAMAN Chapter 2 (2011)
Latest appearance
ULTRAMAN (2019)
Portrayed by
Kaiji Soze
Voice actors
Tsutomu Isobe (motion comic),
Kaiji Soze (anime)
Bemular (べムラー,   Bemurā?) is an antagonist of the 2011 ULTRAMAN manga and the 2019 ULTRAMAN anime series.
History
To be added
Comics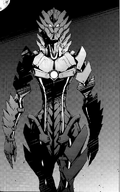 To be added

Abilities
To be added
Gallery
To be added
Trivia
To be added Template:Ultraman2011
Community content is available under
CC-BY-SA
unless otherwise noted.