Arigera

Subtitle
Space Winged Monster
(宇宙有翼怪獣Uchū yū tsubasa Kaijū?)
Type
Alien Kaiju
Height
55 meters[1]
Weight
11,000 tons[1]
Allies
Other Arigera,
Alien Temperor (master; UGMMB:NEO),
Ultraman Belial (master; MMB:UGLtM),
King Goldras, King Silvergon,
King Gesura, Twin Tail, Gudon,
Gomess (S), Magular,
Alien Baltan, Antlar, Zetton
Enemies
Crew GUYS, Ultraman Mebius,
ZAP SPACY, Armored Mefilas,
Ultraman, Ultraman Zero
Portrayed by
To be added
First appearance
Ultraman Mebius Episode 38:
Isana of the Ocean (2007)
Latest appearance
Mega Monster Battle: Ultra Galaxy Legends the Movie (2009)
Roars
TBA
Arigera (アリゲラ,   Arigera?) is an alien daikaiju that first appeared in episode 38 of the 2006 television series Ultraman Mebius.
Appearance
To be added
Origins
To be added
History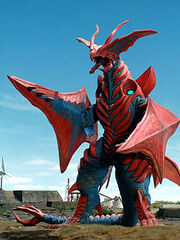 To be added
To be added
To be added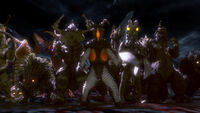 To be added
Abilities
Flight
To be added
Adept Swimmer
To be added
Shockwaves
To be added
Fireballs
To be added
Weaknesses
to be added
Gallery
Main article: Arigera/Gallery
Roar
To be added
Trivia
References
This is a list of references for Arigera.
Template:UltraGalaxyMegaMonsterBattle:NEO
Community content is available under
CC-BY-SA
unless otherwise noted.