We're Getting Mutants in the MCU - The Loop
Play Sound
Alien Temperor

Subtitle
Villainous Alien
(極悪宇宙人Gokuaku Uchūbito?)
Nicknames
The Nefarious Villainous (UZF),
Batista (UMOtM)
Type
Seijin
Home world
Planet Temperor
Height
Showa:
2 to 52 meters

Heisei:
2 to 54 meters[1]

Weight
Showa:
120 Kilograms to
35,000 metric tons

Heisei:
120 kilograms to
39,000 metric tons[1]

Relations

Galactic Union

,
Arigera (Battle Nizer monster),
Belyudra

(component)

Allies

Yapool

, Alien Zarab, Alien Guts,
Alien Nackle, Ultraman Belial,
Super Alien Hipporit, Zoa -Muruchi,
Telesdon, Arstron,

Darkness Five

,
Alien Gapiya
Enemies
Ultra Brothers, Alien Mefilas,
Ultraman Zero, Ultraman Orb
Portrayed by
To be added
Voice actors

Eiji Maruyama

(

UM Taro

),


Daisuke Gori

(UMS&UB and UGLtM),


Holly Kaneko

(UZF)
First appearance

Ultraman Taro

episode 33,


Five Seconds Before the Great Explosion of the Land of Ultra!

(1973)
Latest appearance
Ultraman Orb the Movie: Let Me Borrow the Power of Bonds! (2017)
Sounds
To be added
Alien Temperor (テンペラー星人,   Tenperā Seijin?) is a seijin that first appeared in episode thirty-three of the 1973 television series Ultraman Taro.
Design
To be added
Origins
To be added
History
Ultraman Taro
Five Seconds Before the Great Explosion of the Land of Ultra!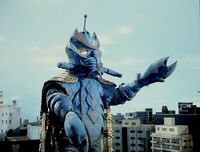 To be added
The Last Day of the Six Ultra Brothers!
To be added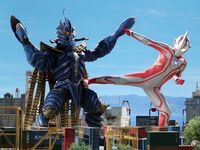 To be added
Armor of Darkness
To be added
To be added
The Nefarious Villainous
To be added
Batista
To be added
Ultraman Geed
To be added
Other Media
Ultra Zone
To be added
Ultraman Retsuden
To be added
New Ultraman Retsuden
To be added
Abilities
Durability
To be added
Size Changing
To be added
Flight
To be added
Omni Pincers
To be added
Flame Radiation
To be added
Beam Rod
To be added
Ultraman Brothers Finisher Beam
To be added
Explosive Flashes
To be added
Omni Pincers
To be added
Naughty Suzy
To be added
Toxic Gas
To be added
Omni Pincers
To be added
Special Spectral Ray
To be added
UFO
To be added
Temperor Spider
To be added
Possession
To be added
Binder Cape
To be added
Flexible Limbs
To be added
Claw Shot Firing
To be added
Heat Beam
To be added
Tempera-Death Heat
To be added
Battle Nizer
To be added
Teleportation
To be added
Tepporito Ray/Himpera Ray
To be added
Weaknesses
To be added
Video Games
Ultraman Fighting Evolution 0
To be added
Gallery
Main article: Alien Temperor/Gallery
Trivia
References
This is a list of references for Alien Temperor. These citations are used to identify the reliable sources on which this article is based. These references appear inside articles in the form of superscript numbers, which look like this: [1]
Template:UltramanTaro Template:UltramanMebius&UltramanBrothers Template:UltraGalaxyMegaMonsterBattle:NEO Template:UltraGalaxyLegendstheMovie Template:BelyudraComponents Template:UltraZeroFight Template:UltramanOrbtheMovie