Alien Godola

Subtitle
Anti-Gravity Alien
(反重力宇宙人Han Jūryoku Uchūbito?)
Nicknames
Alien Godora,
Alien Gondola,
Correla,
God-Win (UM Geed)
Type
Seijin
Home world
Planet Godola
Height
Normal: 2 to 52 meters[1][2]

Ultra Fight: 40 meters

Weight
Normal:
120 kilograms to 45,000 tons[1][2]

Ultra Fight: 22,000 tons

First appearance
Ultraseven Episode 4:
Max, Acknowledge (1967)
Latest appearance
Ultraman Taiga Episode 23:
Clash! Ultra Big Match! (2019)
Relations
Beryudora

(component)

Allies
Alien Pegassa
Enemies
Ultraseven,
Ultraman Geed,
Ultraman Belial
Portrayed by
Saikyō Toshihiko, (Ultraseven)
Hirai Kenta (Heisei Ultraseven)
Voice actors
Kyoji Kobayashi, (Ultraseven)
Daisuke Gōri
(Heisei Ultraseven)
Sounds
To be added
Alien Godola (ゴドラ星人,   Godora Seijin?) is a seijin that appeared in episode four of the 1967 television series Ultraseven.
Appearance
To be added
Origins
To be added
History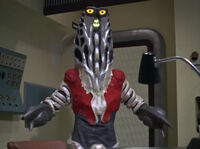 To be added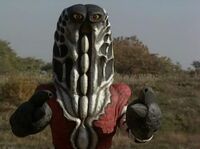 To be added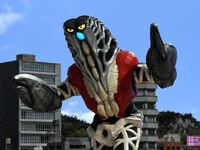 To be added
To be added
To be added
Other Media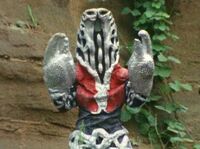 To be added
Abilities
To be added
Gallery
Main article: Alien Godola/Gallery
Trivia
References
This is a list of references for Alien Godola.
Community content is available under
CC-BY-SA
unless otherwise noted.