Alien Bud

Subtitle
Space Emperor
(宇宙帝王Uchū Teiō?)
Nicknames
Alien Bad, Alien Bado
Type
Seijin
Home world
Planet Bud
Height
2 to 40 meters[1]
Weight
80 kilograms to
5,000 tons[1]
Relations
Beryudora

(body part)

Allies

Alien Sturm

Enemies
Ultraseven,
Pega,


Laiha Toba

Portrayed by
Nakamura Seikichi,

Holly Kaneko

(

Geed

; voice)
Voice actors
To be added
First appearance

Ultraseven

Episode 19:
Project Blue (1968)
Latest appearance
Ultraman R/B Episode 18:
A World Without Tomorrow (2018)
Sounds
To be added
Alien Bud (バド星人,   Bado Seijin?) is a seijin that appeared in episode nineteen of the 1967 television series Ultraseven.
Appearance
To be added
Origins
To be added
History
Ultraseven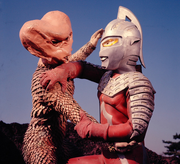 To be added
Ultraman Geed
To be added
To be added
Other Media
To be added
Abilities
To be added
Gallery
Main article:

Alien Bud/Gallery
Trivia
References
This is a list of references for Alien Bud.
Template:BeryudoraComponents Template:UltramanGeed Template:UltramanR/B